African Qualifiers: Super Eagles arrive Nigeria ahead of important Cape Verde clash
Nigeria has a lot of work to do to pick the sole ticket for the final round.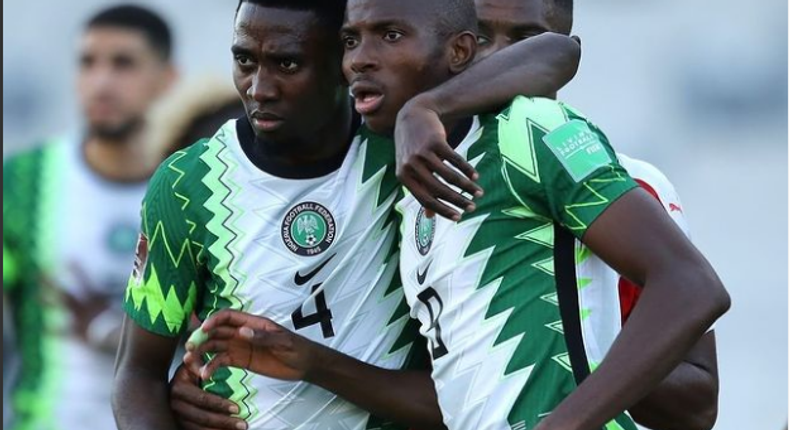 Nigeria's Super Eagles are back in the country following a successful outing in Tangier Morocco.
The Super Eagles arrived Sunday morning aboard Air Peace as attention shifts to the all-important final match against Cape Verde on Tuesday.
"We have landed Lagos, Nigeria safely via chartered Air Peace Airline," the official Super Eagles account posted on Facebook.
"It was a smooth journey. Thanks to the entire Air Peace crew for the great hospitality. So, we're back to work - getting set for the game against Cape Verde on Tuesday."
Two penalties, the first from Victor Osimhen, early in the first half, and a late one in the second half from captain Ahmed Musa, who was a second half substitute, helped the Eagles to a rather unconvincing 0-2 win over their hosts, the Lone Stars of Liberia on Saturday.
Pulse Nigeria
It was a much-needed win that ensured Nigeria remained top of Group C on 12 points, just two ahead of their next opponent, Cape Verde, who came from behind to beat Central African Republic at home in the other group game.
The Super Eagles need just a point from that game to guarantee their place in the final round of qualifiers and must avoid a repeat of what happened the last time they played at home in the same venue for Tuesday's clash, the Teslim Balogun stadium.
Recevez nos Top Stories dans votre boîte de réception
Témoin d'un événement? Contactez-nous directement sur nos réseaux sociaux ou via:
Email: temoin@pulse.sn
ARTICLES SUGGÉRÉS
Al Khayri: le chanteur Demba Guissé prend une niarel
Hors administration publique : plus de 41 heures de travail
Adja Thiaré est toujours hospitalisée
Le Tchad béni, le Mali banni par la communauté internationale
Pourquoi vous ne devez surtout pas laver ces aliments
Le fils du ministre Mariama Sarr déféré puis libéré
Amnistie : Karim Wade menace de démissionner du PDS
Liberté provisoire: Sitor Ndour attend la décision de la chambre d'accusation
Infections urinaires : l'astuce contre les douleurs