African Qualifiers: Super Eagles arrive Nigeria ahead of important Cape Verde clash
Nigeria has a lot of work to do to pick the sole ticket for the final round.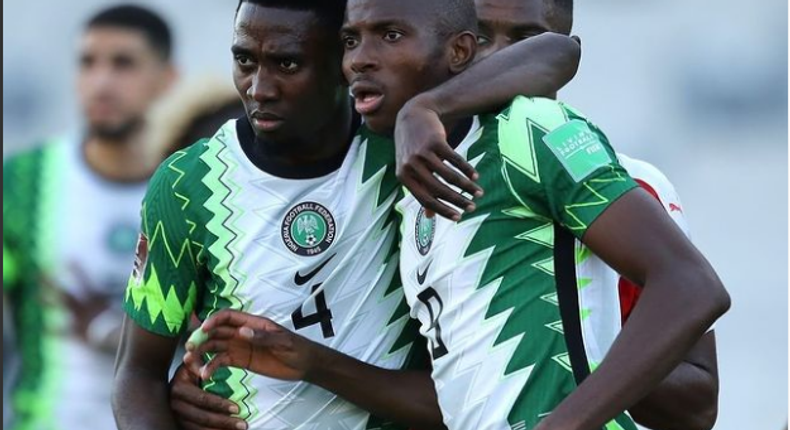 Nigeria's Super Eagles are back in the country following a successful outing in Tangier Morocco.
The Super Eagles arrived Sunday morning aboard Air Peace as attention shifts to the all-important final match against Cape Verde on Tuesday.
"We have landed Lagos, Nigeria safely via chartered Air Peace Airline," the official Super Eagles account posted on Facebook.
"It was a smooth journey. Thanks to the entire Air Peace crew for the great hospitality. So, we're back to work - getting set for the game against Cape Verde on Tuesday."
Two penalties, the first from Victor Osimhen, early in the first half, and a late one in the second half from captain Ahmed Musa, who was a second half substitute, helped the Eagles to a rather unconvincing 0-2 win over their hosts, the Lone Stars of Liberia on Saturday.
Pulse Nigeria
It was a much-needed win that ensured Nigeria remained top of Group C on 12 points, just two ahead of their next opponent, Cape Verde, who came from behind to beat Central African Republic at home in the other group game.
The Super Eagles need just a point from that game to guarantee their place in the final round of qualifiers and must avoid a repeat of what happened the last time they played at home in the same venue for Tuesday's clash, the Teslim Balogun stadium.
Témoin d'un événement? Contactez-nous directement sur nos réseaux sociaux ou via:
Email: temoin@pulse.sn
ARTICLES SUGGÉRÉS
Le 'Henné time' : encore une tradition dévoyée !
Mame Mbaye Niang-Sonko : le procès renvoyé
UEMOA : le Sénégal, pays le plus cher en décembre 2022
Les bienfaits du café au lait
Policiers et gendarmes encerclent Dakar
Modou Lô-Boy Niang 2 : le choc aura lieu en...
Baisse du prix du loyer : le Conseil constitutionnel donne plein pouvoir à Macky Sall
Agression sexuelle et harcèlement : la FIFA durcit le ton !
Tamba : un bus se renverse et fait 27 blessés, dont six graves